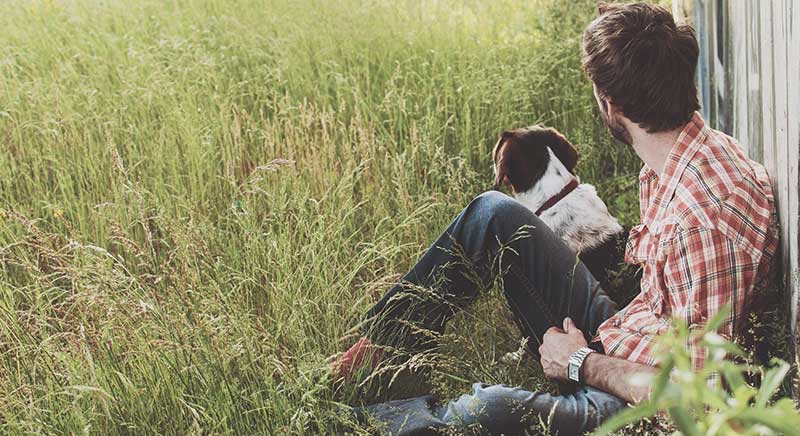 About Hickory Ridge Farms
Shortly after my wife Barb and I bought our farm, moved our horses in and our chief cat "Pinky" (there were a few barn cats, too) a friend approached us about a dog. We have plenty of room, after all, the farm is 80 acres. "This dog needs a place where he can have room and be free" our friend told us.
The story is, this dog was found by a teenage stable hand at the fairgrounds where we had been keeping our horses. He tells us that one evening on his way home from the stable, heading upon the freeway, the car in front him slowed down and tossed something out the window.
A black grocery bag – it was wiggling and rolling. The boy pulled over on the berm, got out and scurried down the hill after the bag. Ripping it open with some caution, out popped a puppy's head. This pup licked the boy's face as if to say, "I love you, you saved my life!!"
The boy lived in an apartment with his mom and couldn't keep the dog. So, he took him to the fairgrounds with him the next day. His kindly boss, Bob, said he'd try to keep him for a while, but he had no room for a dog and he couldn't run loose at the fairgrounds. "I'll go talk to my friend Paul – he's got a farm now and every farm needs a faithful dog."
I liked the dog immediately. He was a mixed Shepherd with the sweetest face, and eyes you could look upon! Besides, he came with a wonderful house that Bob had built for him.W ho could say no? Can you guess what we named him? Yep! Freeway.
What a dog! He instantly took control of our hearts. Freeway aimed to please in every way a dog could. He was nothing short of perfect. Where we went, he went – even driving the tractor bailing hay – Freeway was right there following along behind the wagon; the whole time. This was a classic pet/human love story. I know he understood our every word.
10 years pass by and part of the strawberry field across the street becomes a new homesite for a family with three dogs. Now, these dogs start coming across the road to visit. The people are obviously busy getting settled in their new home and don't watch their dogs well. Our road is very busy with cars driving very fast! One day, Freeway's friends convinced him to go home with them. Freeway had NEVER been near the road. He went. They made it across the road, Freeway didn't. The driver never even stopped.
You know, we still grieve for him. It was 2 years before we could even consider another dog and there was no way unless we had a way to be assured the dog would be safe in our yard and not able to venture near the road.
I learned of Radio Systems Corporation with their underground fences for dogs. After contacting the company and much conversation, research and investigation; not only was I thoroughly convinced Radio Systems had a fantastic product at a fantastic price, I wanted to be a dealer for them. The best part was my wife completely agreed with me! Off we went to their intense dealer training program.
We are soon going into our seventh year with Radio Systems products. We're very proud to have been in the top 20 dealer list in our second year and consistently in the top 10 thereafter. My motto has always been "if you want to be a winner, associate with winners!" Radio Systems is definitely an industry winner with the very best product on the market that will guarantee safe pets and happy owners. Beyond that, they are winners in the manner in which they handle their business, their dealers and their customers.
Hickory Ridge Farms – serving Cuyahoga, Erie, Huron, Lorain, Medina and Summit counties. Call us for the very best product and service at the very best price!
Paul Bartrug, Owner
2003