ProTX-1
Containment that covers up to 100 acres.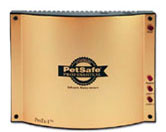 Now, even if your backyard is as big as a city park, your pets can roam freely and safely, thanks to the advanced digital technology of the PetSafe Professional ProTx-1. Of course, it also works in the smallest of spaces to give your pet protection that's completely adjustable and always reliable. And you'll have multiple training options designed to suit your dog's temperament, no matter the breed. As the industry leader, we're dedicated to innovation and quality. Our mission is to be the most trusted brand in the pet ownership experience. That's why our entire line of products was created specifically with your pet's well-being in mind.
ProTx-1 Features:
For professional installation, consult with Hickory Ridge Farms for reliable, affordable service.

Hickory Ridge Farms
A PetSafe Professional™ Dealer
Our Products | Training Tips | Hayrides
Home | About Us | Testimonials | FAQ | Contact

Hosted by Website Solutions