Pro280 Receiver
Successful training starts with a PetSafe® Professional Pro280 Receiver.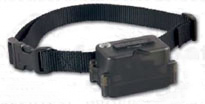 From the leading innovators in the industry, the Pro280 is the only receiver on the market today that has warning tone and warning vibration. Creating products that pack state of the art technology along with safe humane features is our goal. Because training is one of the most important parts to the success of a containment system, the PetSafe Professional Brand is proud to offer the only pet containment training to have received the IACP (International Association of Canine Professionals) Seal of Approval for its Gentle LiteTouch™ Training.
Pro280 Features:
Advanced digital technology ensures your pet's safety and your peace of mind.
10 different correction levels along with warning tone and warning vibration allow you to customize for each individual pet, based on size and temperament.
Anti-linger and progressive correction will stop your pet from hanging out in the boundary zone and running down batteries.
No Run Through detects the speed in which your pet is traveling through the boundary zone. The further into the boundary zone, the higher the correction becomes. The Pro280 will also deliver a correction for 7 seconds if the pet has bolted through the boundary.
Safety "time out" will shut off the receiver after 7 seconds with no tone/vibration or correction for as long as your pet is in the boundary zone.
SafeLight™ low battery indicator keeps you from guessing when to change the batteries.
ISO 9002 certification guarantees the highest quality.
Lifetime transferable warranty.
Waterproof.
For professional installation, consult with Hickory Ridge Farms for reliable, affordable service.

Hickory Ridge Farms
A PetSafe Professional™ Dealer
Our Products | Training Tips | Hayrides
Home | About Us | Testimonials | FAQ | Contact

Hosted by Website Solutions