Lightning Protector
Take your pet's protection to the next level with a PetSafe® Professional Lightning Protector.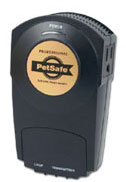 When the unexpected happens - like lightning strikes or power surges - your pet's security could be at risk. With a PetSafe Professional Lightning Protector, you can rest easy even during the most intense thunderstorm knowing that your containment system is safe from Mother Nature's fury. And that means that your pets are safe as well.
Lightning Protector Features:
Safeguards your equipment against most surges.
Completely disconnects AC power to connected equipment in the event of a catastrophic surge.
Large capacity to dissipate surges.
Reduces the risk of system failure by protecting the transmitter so it can continue to keep the pet inside the designated boundary zone.
Lifetime product warranty.
Space saving design that plugs directly into the wall; the transformer plugs into the side of the unit for better balance and stability.
Convenient extra outlet.
Easy-to-see power indicator light.
Positive loop connectors make it easy to attach the loop wire to the unit, firmly securing them in place.
"In January of 1999, I began including the PetSafe Professional Lightning Protector on every system I installed, and since then, not a single transmitter or transformer sold has failed from either a lightning strike or power surge.
My prospective customers are educated and look for clear, distinct advantages in choosing a hidden fence company. The PetSafe Professional Lightning Protector is one of these advantages."
- Roger McCoy, President
Pet DeFence, Inc.
PetSafe Professional System Installer
For professional installation, consult with Hickory Ridge Farms for reliable, affordable service.

Hickory Ridge Farms
A PetSafe Professional™ Dealer
Our Products | Training Tips | Hayrides
Home | About Us | Testimonials | FAQ | Contact

Hosted by Website Solutions