Battery Backup
Where is your pet when the power is out? Safe at home or wandering through the neighborhood?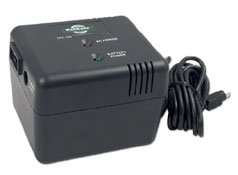 When the lights go out and you are not at home, make sure you have a backup plan. The PetSafe Professional Battery Backup will keep your system powered up and running without missing a beat. There are many things Mother Nature throws our way and when that time comes it is good to know that your pet will still be safe until your return.
Battery Backup Features:
Up to 5 hours of backup power.
Lifetime transferable product warranty.
Always charged and ready for use.
Built in battery maintenance system.
AC & Battery Power indicator lights.
For professional installation, consult with Hickory Ridge Farms for reliable, affordable service.

Hickory Ridge Farms
A PetSafe Professional™ Dealer
Our Products | Training Tips | Hayrides
Home | About Us | Testimonials | FAQ | Contact

Hosted by Website Solutions